Commercial Carpet Cleaning in West Palm Beach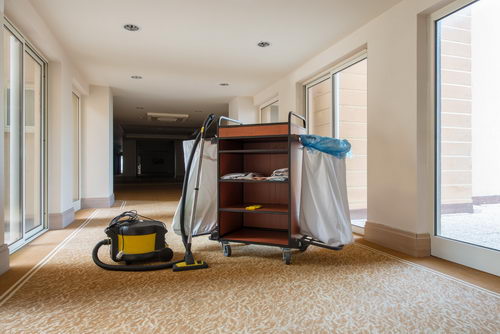 It seems like it's nearly impossible to keep the carpeting inside of a commercial property clean. There are so many people going in and out of the establishment, and each and every one of them track dirt and sand and other filth inside of the business. This filth gets deposited on the carpeting, and then gets ground deep down with every step other people take across the rug. After a month or two, the carpeting can be absolutely disgusting, and smell even worse. This is why you should always have a contract for regular commercial carpet cleaning in West Palm Beach with a professional company serving Dade County. Believe it or not; the life expectancy of your carpeting can be extended with regular carpet cleaning services. It's a wise thing to do from all aspects. RK Cleaning Services offers top of the line commercial carpet cleaning in West Palm Beach and throughout Palm Beach County.
West Palm Beach Residential Carpet Cleaning
For the most part, people in Palm Beach County take great pride in their condos and homes. They want to keep them as clean as possible. Regular vacuuming can remove a lot of the dust and sand that gets dropped on top of a home's carpeting however; skipping a single day of vacuuming causes the dirt, dust and sand to get trapped deep within the fibers of the carpet and eventually makes its way to the padding. A company for residential carpet cleaning in West Palm Beach can make sure that your carpeting is clean and fresh. In fact, a good company can also handle pet stain removal during the carpet cleaning service. RK Cleaning Services provides full service residential carpet cleaning services in West Palm Beach, as well as pet stain removal services.
Reliable Rug Cleaning in West Palm Beach
Many homes in Palm Beach County have tile throughout the residence. This makes for easy maintenance, but can make the home feel cold and unwelcoming. For this reason, a lot of homeowners purchase area rugs to warm the rooms a bit. Just like carpeting, rugs can get dirty and stained. A professional company for rug cleaning in West Palm Beach can have your area rugs looking new again, and take care of those unsightly pet stains without ruining the vibrant color of the fibers. RK Cleaning Services can provide rug cleaning in West Palm Beach, and handle pet stain removal as well.
Complete Carpet Cleaning in West Palm Beach and Palm Beach County
RK Cleaning Services is one of the most widely sought after companies for commercial carpet cleaning, residential carpet cleaning, rug cleaning, and pet stain removal in West Palm Beach. Their professional carpet cleaners will have your home or office looking and smelling fresh and clean in no time. Call (954) 999-4030 to schedule an appointment for carpet cleaning in West Palm Beach and Palm Beach County.