High Reach Gutters Cleaning in Broward County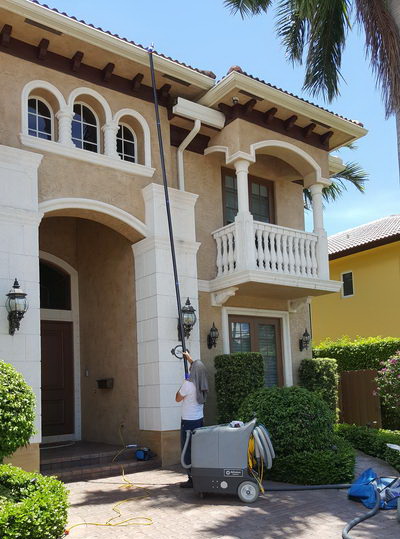 One of the most dreaded but necessary outdoor chores for home maintenance is cleaning the gutters. It's understandable that no one looks forward to tackling this arduous task every year. Climbing on a rickety ladder and removing a year's worth of nasty, gooey filth is not most people's idea of having a good time. Of course, there is always the possibility that the Fort Lauderdale homeowner could fall or the ladder, and become severely injured. It would be well worth your while to hire a professional company for gutters cleaning in Broward County. This is especially true with properties having more than one story. Taking a fall performing gutters cleaning on a single story home would be bad enough however; falling from a two story property could be deadly. RK Cleaning Services offers high reach gutters cleaning in Fort Lauderdale, and all of Broward County.
Palm Beach Gutter Cleaning Services
There are all too many Palm Beach property owners who simply don't understand the importance of proper gutters cleaning and maintenance. It just isn't something that is always at the front of a person's mind. The gutters really aren't something one notices. Naturally, homeowners notice when the paint begins to fade or peel, or the grass becomes overgrown. The gutters are just there. Because you don't see inside of them regularly, they are oftentimes forgotten about. Gutters cleaning in Palm Beach should be done annually to prevent them from breaking, or worse, flooding inside of the home or cracking the foundation of the structure. RK Cleaning Services performs high reach gutters cleaning in Palm Beach, and the surrounding areas.
Professional High Reach Gutters Cleaning in Miami-Dade
Maintaining the gutters on a home or commercial property in Miami Dade is very important. Although this task should be performed annually, it should also be done after tropical storms and hurricanes. Sand, dirt, debris and the like can get into the gutters and become compacted by the heavy winds. This causes the gutters to become severely blocked, creating the chance that the water could end up getting inside of the structure. RK Cleaning Services uses the state of the art SkyVac for high reach gutters cleaning in Palm Beach.
Full Service Gutters Cleaning in Fort Lauderdale
RK Cleaning Services is the premiere provider of high reach gutters cleaning in Broward County, Fort Lauderdale, Palm Beach and Miami Dade. They offer a variety of cleaning services including high reach vacuum cleaning, dryer vents cleaning, and mattress cleaning. Call 954-999-4030 to schedule an appointment for gutters cleaning in Fort Lauderdale, Broward County, Palm Beach or Miami Dade today.