Oriental Rug Cleaning in Broward County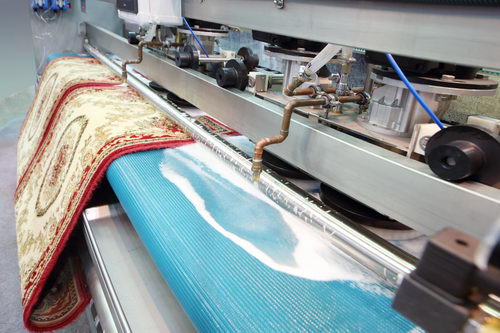 Most homes, condos and even apartments in Broward County no longer have wall to wall carpeting laid down on the floors. In all honesty, carpeting can be problematic as the humidity in the Fort Lauderdale area can cause the carpets to fell a bit on the sticky side. Besides, the humidity can allow mold to grow should the air conditioning go out in the house or building. That could certainly pose a major problem for the property owner, and the residents as well. For these reasons, many people have opted to simply have ceramic, marble or stone tiles installed throughout their properties. Unfortunately, a home that is completely tiled can appear to be cold and unwelcoming to guests. For this reason, a lot of Broward County residents have added Oriental rugs to their décor. Typical carpet cleaners are not acceptable for Oriental rug cleaning. They very well could ruin the rug. Professional Oriental rug cleaning in Broward County is essential to the rug's longevity. RK Cleaning Services has specialists for Oriental rug cleaning in Fort Lauderdale and throughout Broward County.
Fort Lauderdale Oriental Rug Cleaning Services
Few carpet cleaning companies in Fort Lauderdale understand that Oriental rug cleaning services are completely different than cleaning the average wall to wall carpeting in the home or apartment. Inexperienced carpet cleaners can completely ruin the Oriental rugs in your home or condo. Oriental rugs are way too expensive to allow those without the proper expertise to attempt to clean them. The colors can actually fade and even run together, if they use harmful chemicals on them. It is necessary to only use experienced companies for Oriental rug cleaning in Fort Lauderdale. RK Cleaning Services offers only expert Oriental rug cleaning in Fort Lauderdale and Broward County.
Broward County Oriental Rug Cleaning Professionals
There are a lot of home and condo owners who think that it will be more cost-effective to do their own Oriental rug cleaning in Broward County. Sure, there are loads of products on the market that can be purchased at the local Fort Lauderdale Publix or home improvement store that claim to be safe for cleaning Oriental rugs. Unfortunately, these products can do more harm than good. A ruined Oriental rug simply is like tossing your investment out the window and waiting for a truck to run it over. RK Cleaning Services provides the highest quality Oriental rug cleaning Broward County has to offer.
Top Notch Oriental Rug Cleaning in Fort Lauderdale
RK Cleaning Services provides homeowners with top notch Oriental rug cleaning in Fort Lauderdale. Their professional carpet cleaners will ensure that your Oriental rugs do not lose their vibrant colors or lush textures. Call (954) 999-4030 to request the professional Oriental rug cleaning in Broward County.