Storm Damage Restoration in Miami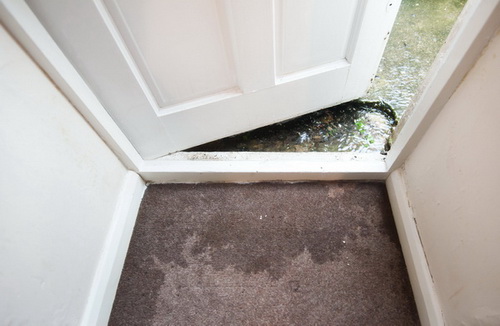 Each and every resident of the gorgeous city of Miami knows that the sun could be shining on the Atlantic Ocean one minute, and the next minute a big thunderstorm with really high winds can be blowing through the area. It's really a quite normal occurrence in beautiful South Florida however; these storms can wreak havoc on residential and commercial properties alike. Think about it! The elevation of the city is less than six feet above sea level. When a good storm comes in and the tides rise, the water must go somewhere. This is what causes a lot of the flooding. While people generally have enough time to prepare for tropical storms and hurricanes, they don't have time to get ready for flare up storms that are common here. When floor waters get inside of your home or business, it is absolutely essential that you address the issue as soon as possible. RK Cleaning Services offers complete restoration for storm damages in Miami.
Miami Water Damage Restoration
Water damage doesn't have to be the result of a storm. All homes and businesses are at risk at having a pipe burst unexpectedly inside of the wall, or the seam on the water heater could begin to leak. Unfortunately, unforeseen things can and will happen when you own a residential or commercial property. The plumbing and water systems don't last forever. Once a leak happens, you really need to address it readily by calling a company for water cleanup and damage remediation. It's not something that the average property owner can handle on his or her own. Improper remedies will result in mold growth that can rapidly take over the entire structure. RK Cleaning Services is the "go to" Miami company for mitigating water damage.
Flood Damage Restoration in Miami
Because the clear majority of businesses have large windows to showcase the wares that they are selling, they are at an elevated risk for flooding due to objects being catapulted by the wind during storms. Of course, it would be wise to have hurricane shutters however; they usually aren't handy when a rogue thunderstorm with high winds blows through the city. Should a projectile come through the window or door, you should cover it with a tart or thick plastic as soon as it is safe to do so. This will prevent more water from coming inside of the property. RK Cleaning Services provides full service restoration for flood damage in Miami.
Miami Water Damage Cleanup Services
RK Cleaning Services offers a host of services throughout Miami, Jacksonville, and Boca Raton. Their professional cleaners are experts in mold remediation and mildew removal. Call 954-999-4030 when you have experienced water damage in your Miami home or commercial property.