Flooring: Strip and Wax for Vinyl Floors in Broward County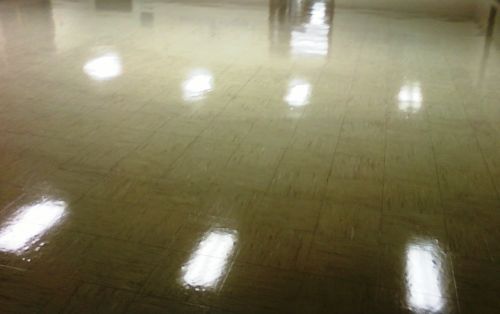 While there are loads of people who would love to trade in their old, vinyl flooring for ceramic or stone tiles, the cold, hard truth is that there is huge difference in the prices. Vinyl flooring is sold at a fraction of the costs of other popular flooring, such as laminate, stone, and hardwood. Let's face it! Not every person in Broward County can afford high end flooring, and vinyl flooring is a wonderful solution for those seeking to have a nice home on a thin budget. In all honesty, vinyl flooring has an estimated lifespan of fifteen to twenty years. This is pretty darn good for a minimal investment. The key to keeping the value of the investment is having it maintained properly. Although many vinyl flooring companies sport the "no wax" label, they need to be waxed to keep them looking good. And with regular waxing, comes stripping. This is not something the average homeowner can handle, a Broward County vinyl flooring company should strip and wax the floors annually. RK Cleaning Services offers professional strip and wax services for vinyl flooring in Fort Lauderdale and all of Broward County.
Professional Vinyl Flooring Strip and Wax
Vinyl flooring often has colorful patterns on each tile, which can make the room in which it has been installed look more interesting and add that needed pop of color needed. Unfortunately, vinyl flooring is made from oil, which means the patterns and colors will be faded and washed away in only a few years. With proper and profession care, the vinyl flooring in your Broward County home or condo can look good for a long time. The professionals at RK Cleaning Services offer vinyl floor strip and wax services in Fort Lauderdale and throughout Broward County.
Strip and Wax Vinyl Flooring in Broward County
The main reason that vinyl tile is popular among first time homeowners is the cost. The next reason is because they believe all they need to do is run the mop over them and they look good. Set off the buzzer, right there. Vinyl flooring needs to be stripped and waxed regularly to maintain its shine and retain the color. Because they are oil based, the vinyl floor tiles require special care. RK Cleaning Services has expert vinyl flooring cleaners for stripping and waxing vinyl flooring services.
Stellar Vinyl Flooring Strip and Wax Services in Broward County
RK Cleaning Services provides top of the line strip and wax services for vinyl flooring in Broward County. They have a stellar reputation for providing complete vinyl flooring services in Fort Lauderdale and the surrounding communities. Call (954) 999-4030 to schedule an appointment for vinyl flooring strip and wax services from the professionals at RK Cleaning Services today.