Wool Rug Cleaning in Broward County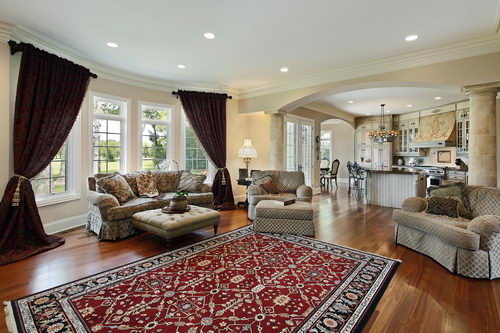 Wool rugs are definitely a worthwhile investment for any Broward County home or condo. They certainly add to the beauty of the décor with their pops of color and intricate patterns. The wool rugs not only create a more interesting room, but they also make it feel cozier and more welcoming for guests. Naturally, the rugs will need basic vacuuming several times each week to help keep dirt and debris from becoming trapped within the wool fibers. Vacuuming is very important, especially when the wool rug is less than a few years old as the fibers will shed, leaving the rug with an odd fuzzy appearance. As with all types of floor coverings, it is essential that you get wool rug cleaning in Fort Lauderdale at least once every year. This will help to keep the colors vibrant and extent its lifespan. RK Cleaning Services offers high quality wool rug cleaning in Broward County.
Fort Lauderdale Wool Rug Cleaning
After about a year on the floor in a Fort Lauderdale home, wool rugs tend to have a bit of a sticky feel to them. This is most noticeable when a person walks across the rug in bare feel. It just is not a good feeling at all, and could certainly prove to be embarrassing, especially if you have overnight guests visiting Broward County. Oftentimes, people will run out to the Publix in Fort Lauderdale to pick up a can of spray on carpet cleaner. Unfortunately, these products make wool rugs feel even stickier. It's a better choice to call in specialists for wool rug cleaning in Fort Lauderdale. They can clean the wool rug and remove that stickiness so you won't be embarrassed when guests visit. RK Cleaning Services provides top notch wool rug cleaning in Fort Lauderdale and nearby cities in Broward County.
Professional Broward County Wool Rug Cleaning
There are many Fort Lauderdale homeowners who rent carpet cleaning machines from the hardware store figuring that they'll save a couple of bucks cleaning their rugs themselves. This is the worst thing to do when you have wool rugs in your Broward County residence. You see, those machines use way too much water and can severely damage and destroy your wool rugs. They simply cannot extract all of the water used to clean the rugs. This can cause the rug to mildew, and nobody wants that to happen to their expensive wool rugs. RK Cleaning Services will perform appropriate wool rug cleaning in Fort Lauderdale.
Complete Wool Rug Cleaning in Fort Lauderdale
RK Cleaning Services provides the finest wool rug cleaning in Fort Lauderdale and all throughout Broward County. With a knowledgeable staff, your expensive wool rugs will be in good hands. Call (954) 999-4030 to schedule a wool rug cleaning in Broward County.