Marble Repair Services in West Palm Beach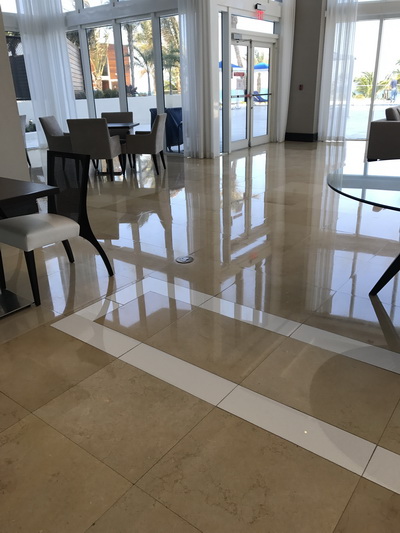 Marble is one of the most sought after natural stones for people seeking to update their homes, and create an absolute wow factor for all of their family and friends who visit. As with all types of natural stone, it must be properly sealed by professionals who are trained to do so. Indeed, the home improvement stores sell marble sealant, but this is not the best idea even for the savviest do it yourselfer. The marble that has been installed in your home or business should last a lifetime however; it has to be cared for properly. Marble is significantly softer and more porous than granite, so sealant and regular maintenance is essential for its beauty to last and last. A variety of foods, like mustard, tomato sauce, and even salad dressing can easily stain the beautiful marble. Of course, cleaning up spills immediately helps, but you will see a slight discoloration in the stone. A professional must be called in as soon as possible to take care of the problem. RK Cleaning Services offers same day service for complete marble repairs in West Palm Beach and the surrounding communities.
Palm Beach County Marble Repair Services
It seems that more and more people are installing marble floor tiles in their bathrooms, as well as marble shower tiles and countertops. This is generally a very cool look and is considered to be a very high end upgrade to the property. One of the things that many homeowners don't realize is that marble is very porous. It will absorb so many things that will stain it. Many makeup products can cause problems, such as liquid foundation, mascara or eye liner, and lip color can be absorbed by the marble in a matter of minutes. Stains must be addressed quickly. RK Cleaning Services provides top of the line marble repair services in Palm Beach County, and they have 24/7 availability throughout the area.
Emergency West Palm Beach Marble Repair Services
There isn't anything in the world that can stain as many surfaces as red wine. Let's face it! It can ruin that expensive dress, the wonderful couch, and yes, those classic marble countertops. Red wine is a killer for marble. Oftentimes during a get together, people don't realize that wine has splashed out of their glasses, and that can be a big problem. The wine should be wiped up as soon as it is noticed, and a stone cleaner is important however; you will need professionals to repair the damage to the surface. RK Cleaning Services offers complete emergency marble repair services in West Palm Beach.
24/7 Marble Repair Services in Palm Beach County
RK Cleaning Services is the company that many homeowners and commercial property owners rely upon when they are in need of same day service. From granite polishing and laminate floors strip and wax services to window washing and power washing services, the experts at RK Cleaning Services do it all. Call 954-999-4030 for quality marble repair services in West Palm Beach.