Concrete Polishing in Fort Lauderdale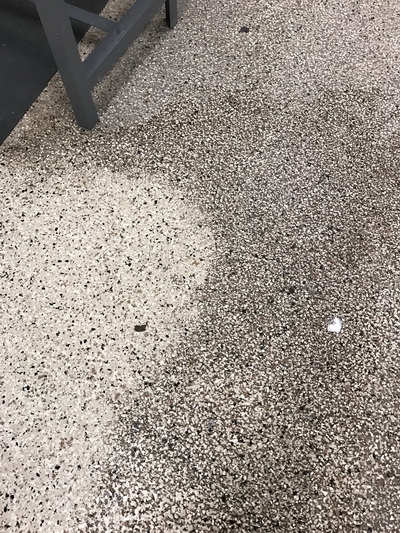 It may sound crazy to a lot of people, but more and more people are opting to have concrete floors installed in their Fort Lauderdale homes. Now, we aren't talking about the simple concrete slab on which your home is built, or your concrete driveway or parking pad. Concrete has come a long way, and a professional interior concrete professional can provide you with sleek and cool looking floors. They can be created in any color you could imagine, and stamped with patterns that will be interesting and work well for your taste. Most of us think that concrete is indestructible, but the truth is that for concrete to maintain its fresh appearance, it does need regular maintenance. Sweeping and mopping is simply a normal thing to do in a home however; the concrete floors will lose their luster after time without having a professional cleaning company coming in to handle the polishing of your concrete floors. RK Cleaning Services offers quality concrete polishing in Fort Lauderdale and the surrounding communities.
Broward County Concrete Polishing Services
The popularity of concrete countertops has been rapidly rising each and every year. Many people like the organic look and feel to this material, and find that it makes a unique mark on their home or commercial property's footprint. Provided the concrete has been sealed properly, it will repel virtually every type of stain one could imagine. You won't need to worry about allowing the children to enjoy that bright red fruit punch anymore. The concrete countertops will be safe. Of course, they will still need to be cleaned as with any other surface, but they will also need annual maintenance performed by a concrete cleaning company. RK Cleaning Services provides top notch concrete polishing in Broward County.
Fort Lauderdale Concrete Polishing Professionals
Concrete floors and countertops are a very cost-effective, yet modern option for those who are tired of the overdone granite and marble options. These days, people expect to typically see granite and marble, which is why concrete is quickly becoming popular. It's different from the norm. Keeping it in tip top shape requires polishing every year. RK Cleaning Services offers complete concrete polishing in Fort Lauderdale.
Professional Concrete Polishing in Broward County
RK Cleaning Services offers same day services for concrete restoration services. They also offer marble polishing services, granite repair, and laminate floors strip and wax services and provide 24/7 availability for emergencies. Services are provided in Miami, Dade County, Jacksonville, Duval County, Boca Raton, Palm Beach County, Fort Lauderdale and Broward County. Call 954-999-4030 to schedule concrete polishing in Fort Lauderdale.