Commercial Roof Cleaning in Fort Lauderdale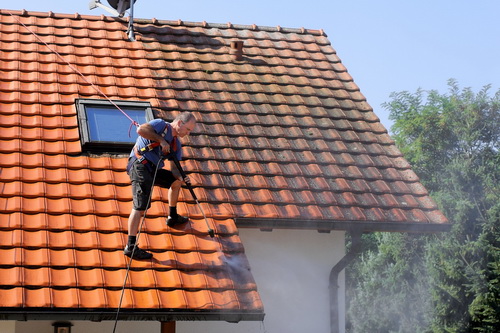 The main thing that business owners in Fort Lauderdale fail to maintain is their roofs. Of course, if they leak or have other issues, they are generally addressed quickly. In all honesty, once the owner of a commercial property takes a look at the roof, they are generally shocked. Moss and even mold can grow on roofs in Ft. Lauderdale. It's nasty, unhealthy and can cause the wood rafters to decay. These problems can easily be prevented by having a roof cleaning company perform cleaning services on a regular basis. RK Cleaning Services can keep your business property looking good with professional roof cleaning services.
Boca Raton Roof Cleaning for Professional Buildings
Professional buildings that house medical facilities, legal firms and other offices in Boca Raton must be well-maintained and kept in pristine condition. Unfortunately, a lot of these buildings look great when a person rolls up in front, but from above, they can look horrific. Branches and debris gather on many roofs and can prove to be very dangerous. Roofs are only meant to hold a certain amount of weight. Too much weight caused by lack of roof maintenance can cause the roof to break down and even collapse. Prudent owners of professional buildings have regular roof cleaning done professionally to ensure the safety of their Boca Raton buildings, and the people inside of them. It's best to have a thorough roof cleaning at least once each year. RK Cleaning Services offers top notch roof cleaning services for Boca Raton professional buildings.
Roof Cleaning for Miami Commercial Properties
There are so many owners of commercial properties who ensure that their buildings are in tiptop condition however; most of them never give a thought to having roof cleaning services performed. Roof cleaning is essential for commercial properties in Miami. Dirt and debris can build up on the roof, especially after tropical storms or hurricanes. Without professional roof cleaning services, this debris will rot and cause damage to the structural integrity of the property. Repairing structural damage can be very costly. That is even if the commercial property can be repaired. Simply having professional roof cleaning done on a regular basis can help to keep a commercial property's value intact. The professionals at RK Cleaning Services are the number one provider of roof cleaning services for commercial buildings in Miami.
A Professional Roof Cleaning Company
The professional cleaners at RK Cleaning Services provide commercial property owners with high quality roof cleaning services. Their clients consider them to be the "go to" cleaning services company in Fort Lauderdale, Boca Raton and Miami. Call 954-999-4030 and the expert roof cleaning providers will have your commercial property's roof looking like new.