Residential Window Cleaning in Boca Raton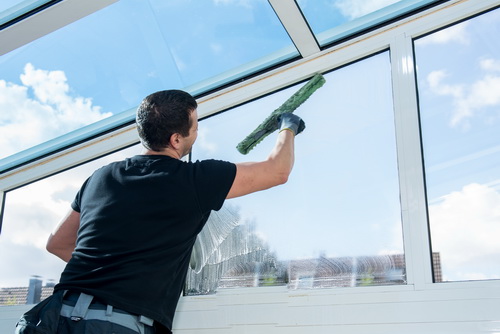 Many of the homes in sunny, Palm Beach County have beautifully tall windows. Some even have hugs transom windows atop of the doors. Such impressive windows are gorgeous, and let the sunlight flood the house however; cleaning them can be real chore. Even the most fastidious homeowner has problems getting the windows clean and brilliant without leaving those awful streaks. Streaky windows can often be much more noticeable than dirty ones. The amount of time spent to try to make the windows free from streaks isn't worth all of the effort. It's so much easier to just have professional window cleaners come and take care of the task for you. They'll do a great job, and be finished in no time. That's a lot better than having to struggle to clean the windows all day long. RK Cleaning Services offers experienced window cleaners who will have your home or condos windows sparkling and streak-free in no time.
High Reach Window Cleaners
One of the most hated chores that needs to be done on a home is cleaning the windows. This is especially true when the house has windows that are simply too high up off the ground to be reached easily. Of course, the owner could always bring out a ladder, climb up and get to work on getting rid of the dirt and buildup on the windows. Ladders can be dangerous even for the most physically fit person, but they can be deadly for those who aren't always steady on their feet, or have a fear of heights. It's not risk the chance of getting hurt or worse. You'd be better of calling a company to tackle the windows. RK Cleaning Services provides complete cleaning services, as well as expert cleaners who specialize in doing high reach windows.
Cleaners for Residential Windows
It seems that everybody is always in a rush these days. The hustle and bustle of everyday life, and managing the activities of a family is enough to make your head spin. Most people barely have the time to run the vacuum, do the laundry, or even cook a meal, let alone having the time to clean all of the windows in the house. It would take away time that otherwise could be spent with the family. RK Cleaning Services offers quality cleaning of residential windows.
Complete Window Shining Services
RK Cleaning Services provides a plethora of cleaning service options for residential and commercial property owners in Boca Raton and Fort Lauderdale. They provide expert window cleaning services as well as laminate floor strip and wax services throughout the area. Call 954-999-4030 to get cleaners that will make your windows sparkle.