Office Window Cleaning in Jacksonville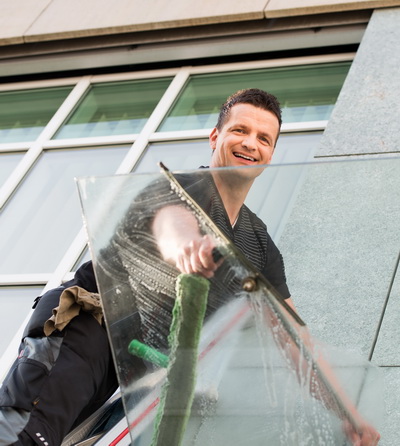 It is always absolutely essential for commercial property owners to maintain their properties in immaculate condition. In all reality, tenants simply won't want an unkempt property to house their professional offices. Buildings that are well maintained and kept in clean condition both inside and outside tend to receive higher rents than those that are unsightly. It's in the property owners' best interest to keep the building in great shape. Not only will it keep your tenants happy and paying their rents, but it will also help to protect your investment in the building and land. Real estate can be the quintessential investment, so long as it is maintained at regular intervals to ensure that it doesn't get in a state of disrepair. This includes maintaining the windows in the office building. If the glass looks dirty and dingy, it makes the overall appearance of the building look dreary and dirty. Scheduling regular maintenance for the windows is important. RK Cleaning Services offers complete glass cleaning services for commercial properties in the Duval County area.
High Rise Glass Cleaning Services
Keeping the glass windows on a high rise building clean can be an overwhelming task. There's a seemingly never-ending amount of dirt and debris that gets built up on the outside of the glass. It can truly be frustrating for both the tenant, and the property owner alike. Clean windows are important, but the job of maintaining them should only be tackled by professional cleaners. They will have the proper products that will help to repel dirt and keep it from adhering to the glass, as well as OSHA approved equipment. This is what they do every day of the week, so they know what they are doing, and can get the job done right and safely. RK Cleaning Services has expert window cleaners for high rise buildings.
Streak-free Window Cleaners
There are few things more annoying than sitting behind your desk at work, and looking out of a window that is steaky and dirty. Even those who are not neat freaks are generally bothered by this unsightly situation. Staring at a dirty window can make it hard to concentrate on the job you're supposed to be doing. Clean windows make for a more productive environment. RK Cleaning Services provides complete glass cleaning services for commercial properties.
Cleaning Services for Commercial Windows
RK Cleaning Services is the "go to" company for many of the commercial property owners in Jacksonville and Fort Lauderdale. They can handle all necessary services, including high rise window cleaning, marble polishing, and high reach gutters cleaning. Call 954-999-4030 to learn more about the services provided by the professional glass cleaners at RK Cleaning Services.