Window Cleaning for Hospitals in Fort Lauderdale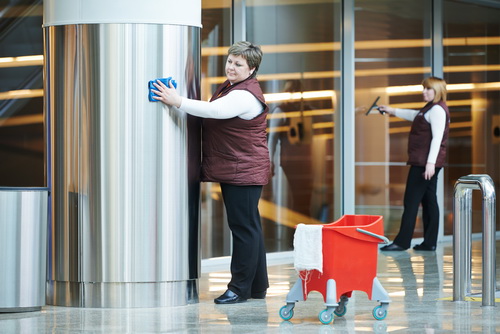 Hospitals in Fort Lauderdale require specialized cleaning services. This is also true when it comes to window cleaning on the outside of the facilities. Dirty and smudged windows will not give the appearance that a hospital needs to portray. Unkempt windows do not let the sun shine into the rooms of patients who are recuperating and trying to become well again. Everyone knows that people generally feel better when there is natural lighting flowing into their rooms. A professional window cleaning company can provide hospitals in Fort Lauderdale with squeaky clean windows that facilitate the sun entering the patients' rooms. This will surely help them to recover much more quickly than being without adequate natural light. At RK Cleaning Services, the window cleaning experts will have the hospital's windows looking as immaculate as your surgical suites.
Exterior Window Cleaners for Fort Lauderdale Hospitals
In Fort Lauderdale, there are quite a number of professional cleaning companies offering a plethora of cleaning services. Most of them are very qualified to perform window cleaning services for residential homes however; few have the proper safety equipment and knowledge to handle large projects such as hospitals, office buildings and the like. In order to perform exterior window cleaning services for hospitals in Fort Lauderdale, the cleaning services company must be able to abide by OSHA standards for safety. Few have the ability to comply legally. The professional exterior window cleaners at RK Cleaning Services understand that safety is imperative while cleaning windows at large hospitals.
Professional Fort Lauderdale Window Cleaning for Hospitals
There is no excuse for a hospital to have windows that are less than meticulously clean. It isn't a good look for any medical facility in Fort Lauderdale. Although people rarely enjoy going to a hospital, they very well might be taken aback by dirty windows. They might even question the type of healthcare services they will receive there. In all honesty, they would probably question the cleanliness of the rooms, food preparation area and the surgical suites as well. An experienced window cleaning company can prevent those issues. They can take those dingy windows and transform them into clean and clear sheets of glass. RK Cleaning Services is the premiere provider of exterior window cleaning services for hospitals in Fort Lauderdale.
Cleaning Services for Exterior Window Cleaning in Fort Lauderdale
Professional window cleaning can make the world of difference in the appearance of hospitals in Fort Lauderdale. RK Cleaning Services is the "go to" window cleaning provider for hospitals and medical facilities in the area. Because they are reliable, reputable, licensed, insured and comply with OSHA's standards. Call 954-999-4030 for the cleanest exterior windows in Fort Lauderdale.