Commercial Window Cleaning in Broward County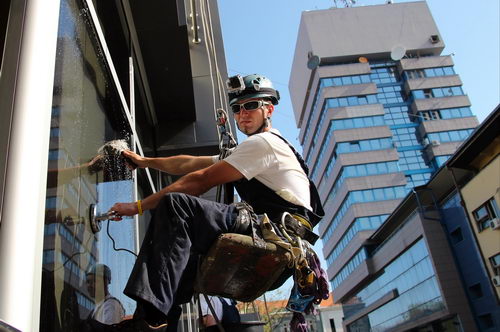 For the most part, every single commercial property in Broward County has a full staff of maintenance men and cleaning crews. The owners should certainly do this as it does help them protect their investment in such large and expensive real estate. Besides, in order to keep the commercial tenants happy, a clean facility is essential. This includes the exterior of the windows in the Fort Lauderdale high rise building. Let's face it! First impressions are the ones that last the longest and filthy windows are not the look that most people want to be greeted by. Without the clients or customers patronizing the businesses, the business owners will no longer have the ability to keep their doors open. This will result in less revenue for the Fort Lauderdale commercial property owners and more vacant square feet. Definitely not the best way to make money on a venture. Regular commercial window cleaning in Broward County will help to keep the customers coming back to the businesses. RK Cleaning Services provides high quality commercial window cleaning in Broward County and the surrounding areas.
Fort Lauderdale Commercial Window Cleaning Services
Keeping commercial windows clean in Fort Lauderdale can be a never ending chore. This is especially difficult during the hurricane season, even if there aren't any true tropical storms or hurricanes. Of course, dirt builds up naturally however; rain and wind can quickly make dirt and debris attach to the outside of the windows in Broward County. Sure, in a one or even two story commercial property, the average maintenance men can handle cleaning the exterior of the windows. This is not the case for larger and taller buildings. For those buildings, experienced commercial window cleaning in Fort Lauderdale is needed. RK Cleaning Services will provide expert window cleaning for your Broward County commercial property.
Complete Broward County Commercial Window Cleaning
Not all commercial property owners understand the rules and regulations set forth by OSHA regarding commercial window cleaning in Broward County. The typical building does not have the proper equipment to handle cleaning windows that are three stories high or taller. Nor should the property owner jeopardize the health and welfare of their maintenance men by expecting them to climb huge ladders in order to clean the windows. This is only a task that should be undertaken by a Fort Lauderdale company licensed to provide commercial window cleaning services. RK Cleaning Services is licenses and insured to offer quality Commercial window cleaning in Broward County.
Professional Commercial Window Cleaning in Fort Lauderdale
RK Cleaning Services is staffed with expert cleaners providing commercial window cleaning in Fort Lauderdale and throughout Broward County. They are licensed and insured so there are no worries in dealing with the issues one could face when hiring unlicensed contractors. Call (954) 999-4030 to schedule commercial window cleaning in Broward County with the experts at RK Cleaning Services.