Windows Restoration Services in Fort Lauderdale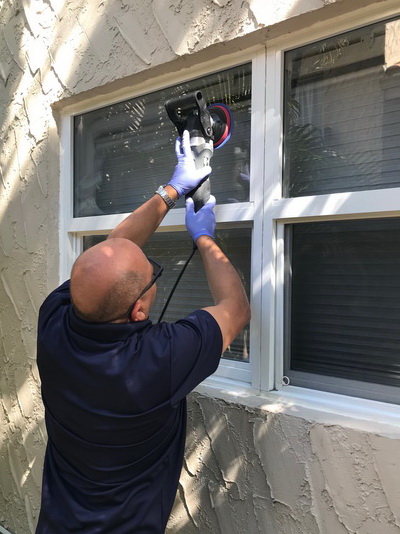 All commercial properties should be maintained in a neat, and clean way, so that it is appealing for those who want to patronize the businesses or offices within it. That's common sense. Nobody wants to go into a building that's shabby and looks dirty and unkempt, especially those living or visiting South Florida. There's a standard that all people expect to be met, and if that standard is not met, people will go elsewhere. It's really quite simply. Of course, keeping the parking areas tidy is important, but it is equally important to have the windows clean and sparkling. Many commercial buildings have big beautiful windows complementing the architecture however; the windows certainly aren't complementary if they are dirty, dingy, and water stained. That is definitely not appealing to most consumers, or tenants for that matter. Clean and clear windows show that the owner takes pride in the property, when added to a well-maintained property as a whole. Pride in ownership shouldn't only be about your home, it should be about every property you own. Commercial properties are investments, so keeping them nice is a wise thing to do. RK Cleaning Services offers restoration services for windows on commercial properties, regardless of the size.
High Rise Window Cleaning Services
It is almost impossible to keep the windows in a high rise commercial building looking clean and free from debris. This is especially true during the rainy season, and even worse when there have been tropical storms or hurricanes. It's just a part of being in this wonderful piece of paradise. Of course, cleaning inside of the windows is usually handled by housekeeping, but outside must be left to the professionals. RK Cleaning Services provides quality window washing services for high rise buildings in South Florida.
Broward County Window Maintenance Services
One of the banes of many Floridians' existences is dealing with those awful hard water stains that appear on the windows, and are very difficult to remove. Not only do they look terrible, it takes so much time scrubbing the glass to get the windows clean again. Sometimes, the average person just can't tackle such a job, so calling in professional glass cleaners is the best bet. The experts at RK Cleaning Services will have your windows sparkling in no time.
Windows Glass Cleaning Services
RK Cleaning Services is the premier cleaning company for many commercial properties. They offer janitorial services, mold remediation, and power washing services in Boca Raton and West Palm Beach. Call 954-999-4030 for complete windows restoration services in Fort Lauderdale.