Office Window Cleaning Miami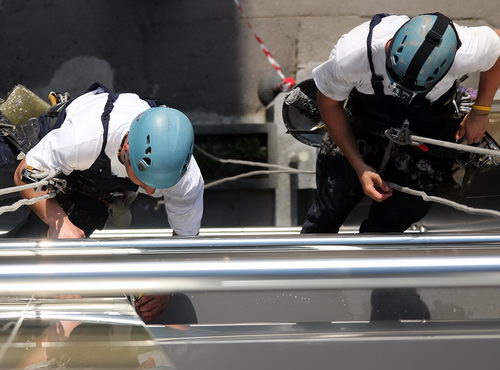 There are more office buildings in beautiful and sunny Miami FL than one could shake a stick at nowadays. It's no wonder because the population in Dade County seems to be increasing by leaps and bounds each and every year. Everybody wants to enjoy the diverse flavor and gorgeous beaches that has made Miami such a great place to live and work and play. The increasing number of office buildings simply boost Dade County's economy however; those office buildings need to be cleaned and maintained. Keeping a crew of cleaners on staff can prove to detrimental to the bottom line of the company. It's more fiscally responsible to hire an outside and private company for office window cleaning Miami. This will eliminate the company's paying regular wages, as well as health insurance, worker's comp insurance and other benefits. Professional office window cleaning services make running a commercial property a whole lot easier. RK Cleaning Services is one of the few companies permitted to provide office window cleaning in Miami.
Dade County Office Window Cleaning Services
It seems that there are so many rules and regulations and codes for commercial property owners to follow these days that it's enough to make your head spin. These codes regulate everything from the number of inches tall the grass can be all the way up to which people are allowed to perform exterior office window cleaning in Dade County. The legalities are endless when it comes to dealing with code enforcement in Miami. Commercial property owners would be better off enlisting professional office window cleaning services in Miami. This will certainly avoid any problems that Dade County may have with having your office window cleaning services done. RK Cleaning Services offers the finest office window cleaning in Dade County.
Miami Office Window Cleaning
It's so important for commercial property owners in Dade County to maintain the appearance of their buildings. This includes keeping the glass windows free from dirt, debris and streaks. Just think about real estate as a whole. Curb appear is a very important factor in purchasing a property, and it is equally important to those leasing office space inside of a Dade County building. Dirty windows certainly aren't good for trying to find long term commercial tenants. Hiring a professional Dade County company for office window cleaning in Miami could help to keep your building occupied. RK Cleaning Services provides top notch office window cleaning in Dade County.
Professional Office Window Cleaning in Dade County
RK Cleaning Services is the premiere provider of complete office window cleaning in Dade County. Their window cleaners are insured and can handle any size building from small strip mall offices to high rise windows cleaning. Call (954) 999-4030 to speak to RK Cleaning Services about office window cleaning in Dade County.