Commercial Window Cleaning in Palm Beach County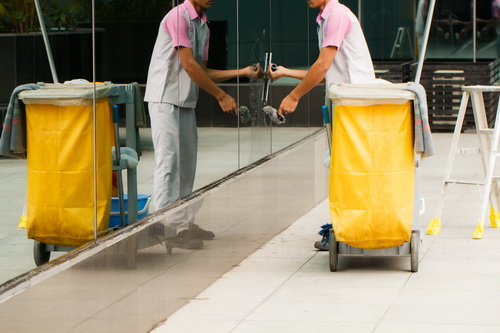 There are loads of spectacular commercial buildings throughout South Florida, and each and every one of them adds something to the incredible cityscape in the area. Between the cityscape and the seascape of the blue Atlantic Ocean, the views are second to none for visitors and residents alike. The views from some of the high-rise buildings can be absolutely mesmerizing, especially for the ones that can see both the city and the ocean. These views are cherished by and talked about by visitors to the city for years and years. In order to truly impress those inside of a high rise, it is essential that the windows be maintained meticulously. The glass simply must be sparkling clean and free from all dirt and streaks. In order for this to occur, the property owner must rely on professional window cleaners. Only professionals can get the job done right the first time, and every time after that. The expert cleaners at RK Cleaning Services can easily maintain your commercial property's windows to keep them clean and clear.
High Rise Glass Cleaning Services Professionals
It can be quite a dauting task trying to keep the outside of the windows in a high rise building clean. This is especially true during and after the rainy season. It can be a hundred times worse if the area gets hit by a tropical storm or hurricane. Dirt, sand, mulch bit and everything else can get deposited on the glass, and stick to it like glue. Fortunately, experienced window maintenance companies have products and professionals that can help decrease this stuck on filth, and remove it immediately. RK Cleaning Services offers high quality cleaning of windows on commercial buildings.
Cleaning Services for Hotel Windows
The view from a hotel window can be the difference between wowing a guest, or leaving them with a lot to be desired. Even the most gorgeous view can easily be destroyed by dirty or streaky windows. Naturally, they can't be cleaned on a daily basis however; the products that are used by cleaning companies can help prevent rain streaks and sticking dirt. The average person simply can't gain access to these professional products. The professional products used by RK Cleaning Service will help to keep your guests' views beautiful.
Professional Window Cleaners for Commercial Properties
RK Cleaning Services is the premier provider of commercial cleaning throughout West Palm Beach, Boca Raton, and Fort Lauderdale. They provide a host of services, including high reach gutters cleaning, mold removal, and concrete restoration. Call 954-999-4030 to schedule a professional team of cleaners to make your windows sparkle in the sunshine.