Commercial Window Cleaning in Fort Lauderdale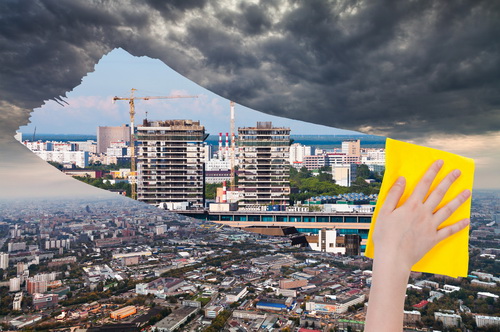 The one thing that you can count on seeing in the beautiful city of Fort Lauderdale is large commercial buildings filled with windows galore. You can guarantee that passersby, especially tourists lean back and imagine what the view would be like from high above them! The buildings can be mesmerizing with all of the glass, or mirrored glass windows. Unfortunately, all windows get dirty regardless of how high above the streets they are. Even on a mildly breezy day, the wind will carry dirt and debris and it will be deposited on the glass. The problem is even worse after Tropical storms and Hurricanes. The salt water on the glass will cause white splotches that are unsightly. This should be addressed readily to keep the building looking clean and beautiful. The commercial property owner definitely needs to have professionals tackle the job of beautifying the windows. RK Cleaning Services offers complete services for cleaning commercial windows.
Professional Window Cleaners for Commercial Properties
There are a ton of cleaning companies that state they can handle cleaning the windows in the tallest buildings. Generally, they just aren't experienced enough, nor do they have the appropriate equipment to tackle such a job. In all reality, inexperienced cleaners can create a big problem for the property owner. It's always wise to speak to the references that the company provides to you to ensure that they have done windows in high rise buildings. It's always better to be safe than sorry, and verify the references. You'll be glad that you did. RK Cleaning Services provides cleaners who are experienced in the field.
Cleaning Services for Windows in Hotels
When a guest visits the South Florida area, he or she will expect to arrive at their hotels and find them in pristine condition. First impressions can never be recreated, so ensuring the hotel is spic and span is the key to making the guests' eyes light up upon arrival. Every nook and cranny must be clean. This includes both the indoor and outdoor areas and buildings. While the cleaning staff can handle the interior windows, you will need professionals to make the exterior windows bright and clean. The expert window cleaners at RK Cleaning Services will have your windows streak-free and dazzling in no time.
Glass Cleaning for Commercial Buildings
RK Cleaning Services offers complete services for commercial and residential properties in Fort Lauderdale, Boca Raton and West Palm Beach. From cleaning windows and polishing marble to high reach gutters cleaning and pressure washing, the experts at RK Cleaning Services can do it all. Call 954-999-4030 to schedule an appointment today.