High Rise Windows Cleaning Miami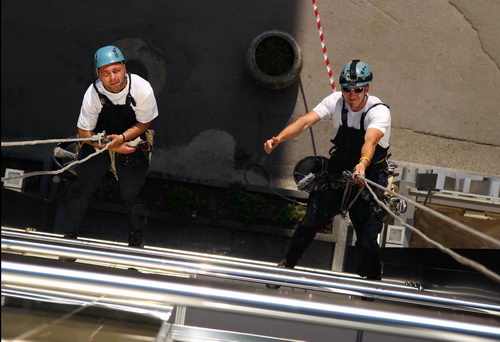 There are a plethora of absolutely stunning high rise buildings located nearly everywhere you look throughout beautiful Dade County FL. Residents and visitors alike are always mesmerized by the sight of the Miami skyline, especially when it is all lit up in the evening. Unfortunately when the windows are filthy and dirty, it really hinders the appearance of the building as a whole. Sure, the average maintenance man or housekeeper in the building can ensure that the inside of the windows are kept clean and free from dirt however; much of the dirt is actually built up on the exterior of the windows. This is quite unsightly and can make the building look unkempt and shabby, even if it is a newer structure. It is important to keep the building looking great, so hiring professionals for high rise windows cleaning in Miami is necessary. RK Cleaning Services offers high rise windows cleaning in Dade County.
Dade County High Rise Windows Cleaning
Dade County is home to many large structures filled with professional offices, such as those used by physicians, accountants and attorneys-at-law. Such professional building must be maintained in such a way that they are in pristine condition. To be honest, buildings in Miami that are not properly maintained often result in occupancies thus; causing the owners to lose a lot of potential revenue. Also, patients and clients are less likely to use the services of professionals in dirty facilities, regardless of how well-maintained the actual office is inside. Regular high rise windows cleaning in Dade County can help to keep the building fully occupies and the individual businesses profitable. RK Cleaning Services provides quality high rise windows cleaning in Miami and throughout Dade County.
Professional High Rise Windows Cleaning Services in Miami
Considering there were well over 14 million people last year who flocked to sunny Miami, there are loads of hotels to provide them all with wonderful accommodations during their stays. It certainly wouldn't be the best impression in the world for hotel guests if the windows in the high rise hotel were dirty or streaked. High rise windows cleaning in Miami is best left to the professionals. After all, they are the ones with the OSHA approved equipment and training, as well as the proper licenses and insurance. Otherwise, the hotel could have a disaster on their hands and possible a lawsuits. RK Cleaning Services has skilled professionals for high rise windows cleaning in Miami.
Complete High Rise Windows Cleaning in Dade County
RK Cleaning Services is the premiere company for quality high rise windows cleaning in Dade County. Their professional high rise windows cleaners take great pride in the work that they do. Call (954) 999-4030 and RK Cleaning Services will provide you with the best high rise windows cleaning in Miami, or anywhere in Dade County.